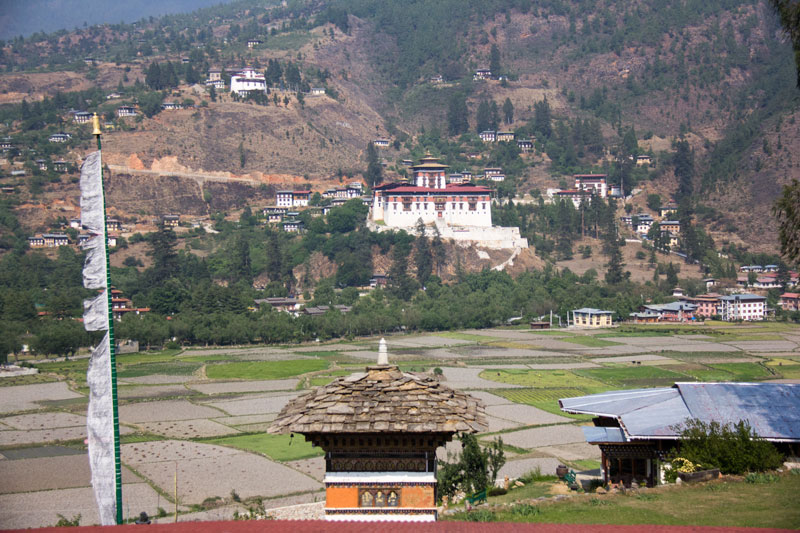 The Gangtey palace, home of the powerful lords of Paro was built more than a hundred years ago. It served as a residence for the Penlops or governors who looked after the district's administration.
For the people living during the time, the Penlops of Paro was respected as an embodiment of both a lama and a ruler. Oral literatures abound on the generosity of the Penlops as well as on their strict disciplinarian lifestyle.
The owners of the palace share the same lineage as the royal family who are decedents of the Peling Dungje. Tertoen Pema Lingpa, a treasure discoverer and spiritual heir of guru Rinpoche founded the family sometime in the fifteen century.
Tertoen Pema Lingpa is revered as an important religious personality, saint, architect, artist and sacred dancer in Bhutan's history.
Indeed, Paro Penlop (Governor) Dawa Penjore who built the palace was uncle to the first king of Bhutan Gongsar Ugyen Wangchuck. During the time, Bhutan was going through a political transformation, as the whole country came together to establish Bhutan's first hereditary monarch.
Later, after the crowning of the first king of Bhutan in 1907, Tshering Penjore who succeeded as the Paro Penlop made several repairs and reconstructed the palace to be used as residence for the king. In the 1940s, the palace was given to Raja S.T Dorji, the father of the present Royal Grandmother.
Later in the 1940s the palace became the private residence of Jigme Palden Dorji, Bhutan's first Prime Minister who lived for a short while.
Today, the property is owned and managed by, Tobgye S. Dorji, who was a former ambassador of Bhutan to Bangladesh, Geneva and Kuwait.  In 1994, the palace was turned into a hotel to allow foreign visitors to experience the authentic Bhutanese lifestyle in Bhutan's medieval history.