Gangtey palace lies only 3 kilometers, roughly 2 miles, from the Paro International airport towards the northeastern part of the town. From a distance, the palace can be seen with a surrounding wall and a main building.
Before entering the main castle, the garden offers a floral treat of a variety of plants, fruits and flowers. Outside the palace, on the right side of the lawn is a temple dedicated to Tsheringma, the Goddess of wealth.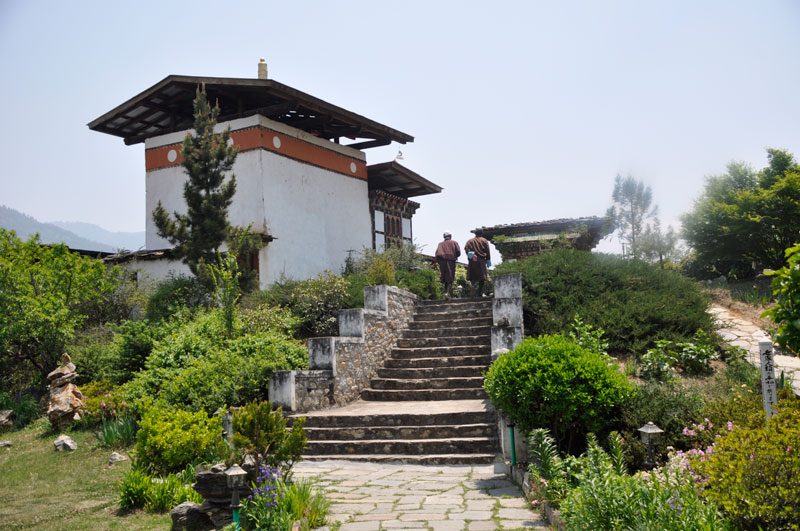 Its caretaker, a village elder becomes excited when he talks about the stories and legends of the Goddess Tsheringma, who was transformed from a wrathful demon to a benevolent goddess by the great Tibetan Yogi, Milerapa.
Inside the temple, the statue of the goddess rides a dragon in one of her five manifestations. The dragon is a national symbol of the country. The goddess is believed to bless wealth, longevity, wisdom, good looks and fertility to the people.
The divine aspect of the castle extends inside the palace building where a whole room on the top floor has been made into an Alter, complete with butter lamps, thangkas (tapestries) and Bhutanese decorative arts.
In its sanctum are three conspicuous statues of Lord Buddha, Guru Rinpoche and Zhabdrung Ngawang Namgyel. The murals in the alter room display epic battles of the legendary warrior king, Gesar, known to the locals as Ling Gesar Gyalpo.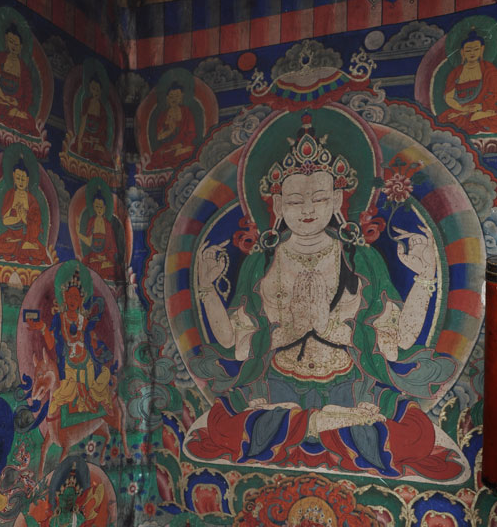 Occupants in the hotel are allowed to meditate inside the quite, peaceful and solemn alter room. In recent times, few couples from other countries had been married in traditional Bhutanese style inside the palace's alter room.
On the palace's backyard, the surrounding hill and natural vegetation provide a peaceful respite. The hotel also offers a hot stone-bath facility in its backyard. Handpicked stones are heated on fire and immersed inside a small wooden bathtub.  The water is sourced from the a natural spring within the property that is said to have healing properties.
In a few distance from the bathhouse flows a natural spring water, which locals believe, cures various diseases and medical conditions. Besides the hot stone bath, the hotel also provides ayurvedic massage facility to its occupants.
On the left side of the palace is the hotel bar, with antique guns and swords hanging on its walls as decorative pieces.
One feature, that perhaps makes Gangtey Palace stand out from the rest is the very ground where it stands. Commanding a panoramic view of almost the whole of Paro valley, one often loses a sense of time while being fascinated by the breathtaking view of the Paro valley beneath.