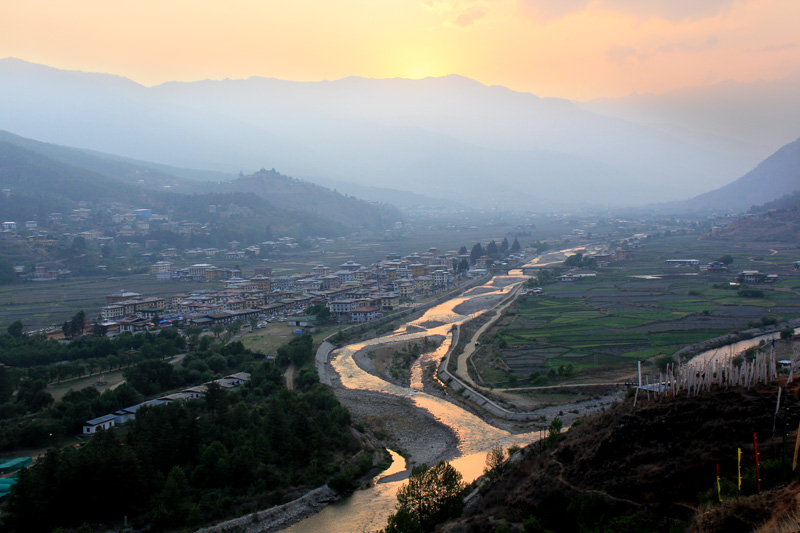 Paro valley is one of Bhutan's most exquisite places to visit, with quaint villages, ancient monasteries, lush green paddy fields and traditional two storied Bhutanese houses.
It is home to some of Bhutan's most sacred monasteries including Taktshang, the Tiger's Nest Monastery. The monastery is built on the face of a cliff above Paro. Guru Rinpoche, an eighth century Buddhist tantric master who brought Buddhism to Bhutan, is said to have meditated on the site.
Hundreds of tourists and local pilgrims visit the temple every day. It is a two-hour hike from the base of the hill to the monastery. Paro Taktshang is also one of Bhutan's most important iconic symbol.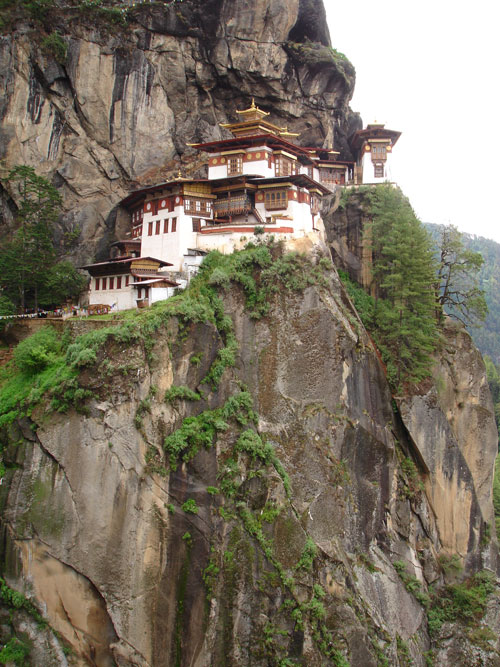 Paro valley also stands testimony to Bhutan's rich history. Glorious temples and monasteries dot the surrounding hills while on others, one can also see ruins of ancient fortresses.
In its main town, things move a little faster with rapid development taking place across the country.
But it is serene and tranquil as ever, inside the temples on the hills.
In the town, there are many fascinating souvenirs to choose among the traditional Bhutanese handicraft shops. Restaurants and hotels also offer a taste of local Bhutanese dishes.
The Pachhu River flows through the valley, while the majestic Paro Rinpung dzong stands on a ridge guarded by a watchtower from behind. The dzong serves as the administrative center of the district of Paro.
Today the watchtower has been transformed into the national museum of Bhutan. The museum showcases large number of historical Bhutanese artifacts. The various artifacts are a narrative of Bhutan's rich history and culture.
From the outside, the watchtower has a unique architectural design, as it is built in the shape of a conch.
Due to popular tourists' demand, many houses in the villages across the valley have been remodeled and customized to accommodate foreign travellers looking to experience traditional Bhutanese lifestyle. Homestay facilities allow tourists to become part of a Bhutanese family.
Religion and culture has had strong influence on people's mindset over centuries, and this manifests itself in various festivals or tshechus observed across the country throughout the year. Tshechus are festivals of mask dances, depicting victory of good over evil.
The Paro tshechu is one of the most popular tshechu in Bhutan after Thimphu tshechu. Bhutanese people can be seen dressed in their finest local attire during the tshechu. Paro tshechu is held on the tenth day of the second lunar month.
For adventurous travellers, if the 2-hour hike to Paro Taktshang isn't enough, hiking in some of its exclusive trails can be exceedingly satisfying.  The most popular is the Druk Path trek that connects Paro with the capital city Thimphu across valleys, rivers and lakes on a six-day walk.
Paro valley offers an opportunity to experience all of Bhutan in its entirety, including culture, religion, history, tradition, architecture and the Bhutanese way of life, all of which aim at achieving a common goal; happiness.